The Final Call |
National News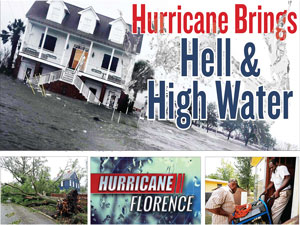 by Brian E. Muhammad - Staff Writer
COLUMBIA, S.C.—The destruction of land, property and the interruption and loss of life came with what meteorologists characterized as the "storm of a lifetime" and worst hurricane in recent years.... »
FEATURED STORIES
DALLAS—Botham Shem Jean could not have imaged that his last...
DETROIT—The Queen of Soul started her life and career in...
Once again inmates fed up with abuses went on strike...
LOS ANGELES—The world is celebrating the life of Aretha Franklin,...
Winnie Madikizela Mandela, the queen mother in the struggle for...
California Governor Edmund Brown, Jr. declared a state of emergency...
News headlines described Chicago as a "war zone" after an...
The recent decision by Netflix to cancel a documentary about...
Twenty-five years ago, former gang members, activists and a few...
Most American cities and counties routinely buy bonds to cover...
Donald Trump called a traitor after meeting with Russia's Putin,...
Activists use civil disobedience in a battle to stop violence...