The Final Call |
National News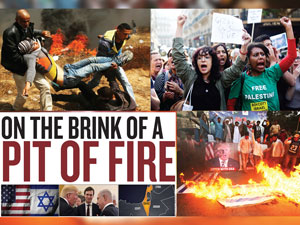 by
Charlene Muhammad
-National Correspondent-
Palestinian protests, major Trump miscues in Israel and rising tension, targeting of Iran don't bode well for the future of the Middle East. Nation of Islam Minister Louis Farrakhan off... »
FEATURED STORIES
Black women are often described as the backbone, soul, conscience...
The popular Philly rapper is no longer in prison and...
The mother of a young Black woman whose body parts...
WASHINGTON—United States military forces, joined by the United Kingdom and...
Family members share the pain of loss and their resolve...
Winnie Madikizela Mandela, the queen mother in the struggle for...
When reports circulated that Israeli Sephardi Chief Rabbi Yitzhak Yosef...
Resolution seeking to condemn Farrakhan, blasted by activists, analysts: Congressional...
The Jewish stranglehold on Black political leaders was manifested when...
Jewish and Zionist groups who have harassed, slandered, and stalked...
CHICAGO—Saviours' Day, the annual Nation of Islam celebration and crowning...
.Minister Louis Farrakhan 'unmasks the deceivers,' confronts the haters, warns...